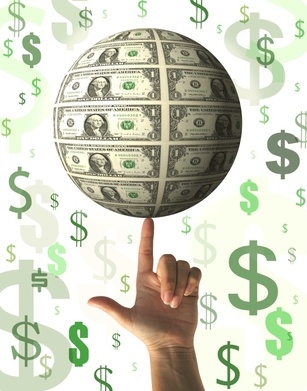 Oh to be a player/owner in the NBA or maybe having a stake in MLSE. If you were fortunate enough to be a part of the aforementioned money machines you wouldn't have to worry about little nuisances, like the global economy.  As Greece and the rest of Europe face possible ruin the NBA owners and players finally agreed on a way to divi up $3 billion.  Thank god because I was starting to worry how players in the NBA could possibly get by with an average salary of, gulp, $5 million per annum.  But I need not fret, the NBA strike is over and now the millionaires and billionaires can rejoice as the lemmings flock back to watch a little b-ball.
Also this past weekend it was announced that the  Ontario Teachers' Pension Fund is no longer interested in selling their 80% stake in MLSE, Maple Leaf Sport & Entertainment.  Apparently there was no one out there wiling to cough up the $1.3 billion asking price so they decided to hang on to their investment and giggle as they milk their cash cow.  To be clear, I don't begrudge them one bit for the return that they will someday make on their investment. I hope they get $2 billion, oh hell, for all I care I hope they make a trillion.  I sure ain't buying them.  Wait, let me have a look at my wallet, nope, not me. So if I can't buy them at least I can fantasize what it would be like to have business like MLSE.  Oh, to have a business where results don't matter.  Clearly I'm not referring to financial results.
I often

think what it would be like to provide a product or service where results don't matter.  You work at it, you make an effort, you fail but you make more money every year.  Bloody wonderful I say!  That's not business, that's art.  Regrettably for the rest of us results  matter.  No success, no money.  Kind of simple, unless you're an adoring Toronto Maple Leaf fan, a Toronto Raptors fan, Toronto Marlies fan or a TFC fan.  Fans of the Leafs, Raptors, Marlies and TFC have this uncanny ability to suspend reality.  Success on the ice, hardwood or pitch matters not.  When I watch one of the teams owned by MLSE play I'm reminded of that commercial that asks, "so what's in your wallet?". After buying a Leaf ticket? Nothing!  The folks at MLSE have an extraordinary business model.  It's not to be loathed but rather respected.  Even all the Leaf haters have to admit there's a genius to this business model.  We would all love to be in a position where the reality of success has no bearing on our financial net worth.
Back to the NBA labour dispute.  They were so close to flushing the entire season down the drain.  Pity it didn't happen.  With extra time off maybe a few players would have read a newspaper or watched the news instead of watching Sports Center for news on the lock out.  Maybe they would have realized there was a real world out there, and good people are having a tough go.  Some are even adoring fans who will make significant sacrifices to buy tickets and jerseys. I think that matters little to the players and owners. No time to think about that nonsense.  Now's the time to think about spending all that money.
If I had only spent more time in the gym in high school, and worked on my outside shot. Who am I kidding!  I'm 5'10, okay I'm 5'9, tall white male that can't jump.  And I read the odd newspaper.  I was doomed at birth.
Until next time,
Cheers.