I received an email this morning from my better half, Kathy, saying today is Mike Cooper's last day on the air.  Mike Cooper is an on-air radio personality in Toronto.  After 45 years on the air, he's decided to hang up his earphones, and go quietly into the night. My musical tastes have changed over the years; therefore, I don't listen to the station that Cooper worked for, CHFI. That being said, I regret not tuning in this morning, to at least listen to a portion of his last show on the air. When I found out this was his last day, a rush of memories came flooding back to me.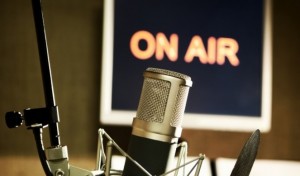 Many, many, and I do mean many, moons ago I worked with Mike Cooper at CFTR. Back then CFTR was a rock radio station, and we battled mightily against the then powerhouse, 1050 CHUM. Back at CFTR, I worked as an intern, that's code for free, and eventually got a full time gig working the board. My responsibility was to make sure the songs made it to air; you never missed playing a commercial, always pumped the on air jock's tires, and never pissed them off.  It was simple, the jock was the star, and I was the help. Working the board was my entry point into that business. My goal was to be on the other side of the glass, and be the on-air talent. Every once in a while I would work the board for Cooper's show. He was a pro, and now and then he would put me and his regular "producer", on the air to do a bit.  We would do character voices, and Cooper was a great straight man. He would laugh his ass off on air as we did our shtick, and we had to work at not busting a gut ourselves. His regular "producer" (who just happens to work in our industry today, what a small world) was on-air with Cooper more frequently. I never asked his regular producer what he felt like when he finished doing a "bit" with Cooper on the air. For me? Easy; my god, what a rush. Watching Cooper work stoked my internal flame.  Truthfully, I wanted to be him on the air.
I have some great memories from my rather short radio career. I met some interesting people along the way.  When I listen to John Derringer in the morning, on Q107, every once in a while I think about him taking over for me on the board after I just finished working the grave yard shift at CFTR. Or if I listen to John Oakley, on AM640, I think about the time we were roommates in Orillia, Ontario. We both worked on air then for the local radio station, CFOR. We both loved what we were doing.  We must have considering we worked for dog wages, and lived in a dump. I still laugh today thinking that I used to have to take as shower wearing high-top running shoes because the bathtub was disgustingly dirty. Both Derringer and Oakley went on to great success. They persevered, and chased the dream. I decided to choose another path, and never once have I said, "what if?" But I don't for a second regret a minute I spent in the radio business. The radio business gets in your blood. Frankly, if a local station was to offer me the odd on-air shift to do on a weekend, I would probably do it, for free.  This is remarkable because there are not many things I do in this world for free anymore.
I hope Mike Cooper finds happiness in the next chapter of his life.  I thank him for inspiring and motivating a wet behind the ears kid; a kid who suspended reality, and chased the dream.  Albeit, it ended up being a different dream.
Until next time,
Cheers.