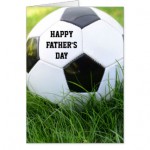 My word, it's been a long time since I posted a blog.  The reason is fairly simple –  unmotivated, writers block and nothing truly compelled me to write one.  I've come to realize that writing a regular blog is like going to the gym.  Once you stop, it's hard to get back into it.  But like going to gym, something happens that makes you go back.  Example, you see a picture of yourself, and you rationalize that the camera adds pounds, but my God; did five cameras take this picture of me?  Back to the gym you go.  As for this blog, it was walking past a display of Father's Day cards.
This blog is about my father.  I could use many adjectives to describe my father, but a simple phrase captures his true essence;  he's a good man.  My father is like many dads.  Worked hard all his life, and always put family first.  Both of my parents immigrated to Canada in 1958 and they met here.  They started a family and never asked for a handout.  They provided for two sons, and gave them every opportunity to succeed.  Our household growing up was not unlike other Canadian/European homes.  Mom was the daily disciplinarian; Dad was the executioner.  If he had to get involved, I was in deep poo-poo. 
I still giggle thinking about the neighbourhood I grew up in as a child, predominately Italian, and how every household seemed to have the same playbook to get their sons to finally come home for dinner.  It didn't matter if the Mom was of Croatian, Italian, Hungarian or of German background; it was the same routine.  The moms would come to front door, and call their sons in for dinner.  This happened every five minutes, for about forty-five minutes.  Exasperated, the moms on the street went to the heavy artillery, the father.  Every father on our street had a unique whistle.  As kids, we could identify each whistle by tone and number of bursts.  When it wasn't your whistle?  You continued to play ball hockey.  When it was your whistle?  It didn't matter if you were on a breakaway with a wide open hockey net in front of you; you dropped your stick and ran home.  That's just the way it was.
I still remember my teenage years and thinking, how did these two, my parents, ever survive without my council and knowhow?  It was only when I moved out of the house at nineteen that I realized that maybe they're not so dumb after all.  After six months on my own? I believed my parents were the smartest people on the face of the earth.  It was only then that I stated to think about the sacrifices and risks my parents took.  Meaning, I started to look at them through a different lens, one of respect and admiration.  I'm still taken aback at how proud my Dad is to be a Canadian.  It's deep rooted and it's based from being so thankful.  My father escaped from a communist country, one which was oppressive and treated him like a second class citizen.  He's never taken for granted that Canada gave him the opportunity to live a free and fulfilling life.  It's why when I ask him if he would ever contemplate moving back to his homeland, his answer is always the same, never!  For him Canada is his home, and this is where his life is.  It's one of the reasons why when I hear the Canadian national anthem I get a lump in my throat. 
One of things I am most thankful for is that my dad taught me about my ancestry, and where our family was originally from.  I was born in Canada, but I share DNA with family in Croatia.  My parents taught me the language and I'm grateful that I can converse in two languages.  My dad taught me that when asked what nationality I was, the answer is Canadian, with Croatian heritage.  But Canada always comes first.  But one thing that Canada has never excelled at is the game of soccer, at least not on a global scale.  My dad introduced me to the game of soccer at an early age.  I was taken by it right away.  The tension, the crowd chanting and singing, and over time I realized the game of soccer was more than just a game.  As an adult I decided to thank my father for introducing me to the game of soccer, so we embarked on a soccer journey together.
It started some eight years ago, Euro 2008, in Austria.  For those who may not be aware, the European Football Association holds a championship tournament for European soccer teams every four years.  It's soccer at the highest level, and I always believed it was a better brand of soccer than the World Cup.  No patsies or soccer fodder can qualify for this tournament.  The number of teams that qualify for the Euro is limited; therefore, every team can win on any given day.  So as a family we went to Austria to watch three games, all involving the Croatian National Soccer team.  The second game we witnessed is still burned in my memory, Croatia versus the mighty Germans.  Germany is to soccer what Canada is to hockey.  The depth of Germany's talent pool is so deep that they could probably field two teams for the tournament, and play themselves in the finals.  So this game was truly David versus Goliath.  Croatia is a country of 4.5 million people; they produce an astonishing number of world class players for such a small country.  But still, it's Germany we're talking about.  Our seats were in the end zone, among the Croatian supporters.  Croatian supporters were badly outnumbered by German supporters, but they were loud in voice.  I remember looking past my brother to get a glimpse of my Dad as the Croatian National Anthem was being played.  I was thinking this must be an extraordinary moment for him.  His place of birth became an independent country in 1992, after a brutal war, and today he gets to witness the raising of his homelands flag, and the freedom to sing the anthem without the fear of his former oppressors watching.  More importantly, that they couldn't do anything about it.  Back to the game, at best we were hoping for a tie, and silently praying that we wouldn't be embarrassed.  Then in the 24th minute Croatia scored first.  To say the Croatian supporters went nuts would be an understatement.  Shame there was so much time left on the clock because we all knew the Germans would keep coming.  So now we're into the second half of the game, and then the unthinkable happened, Croatia scored in the 62nd minute.  Now we're going insane, including my Dad.  We're up 2-0, against the Germans!  Then in the 79th minute the Germans scored, and I instantly knew that the last 11 minutes of the game would be excruciatingly long.  Our seats in the second half were located behind the Croatian net, so we witnessed wave after wave of German attacks.  They were relentless, and we got the sense that only time could stop them now.  The match clock finally reached 90 minutes, but two minutes were added for "injury" time, or if you wish Academy Award performances for the time wasted by players acting as if they were hit by sniper fire.  I swear I stopped watching the game after the first minute of "injury" time.  My eyes were glued to the referee, silently and not so silently, imploring him to blow the final whistle.  And then it happened, game over, Croatia 2 Germany 1.  It was sheer bedlam after that.  Total strangers embracing, high fiving each other, you just wanted to celebrate.  I looked over at my Dad while a total stranger was hugging me.  I could see him squeezing past my brother to come to me.  I told the stranger that we would have to continue our love affair later, and excused myself.   My Dad approached me, cupped my cheeks with both his hands, looked me in the eye and said, "thank you so much; this is the best gift anyone has ever given me".  He kissed me on the cheek, and hugged me as hard as he could.
It was at that moment that I decided I would do whatever I could to give him this moment again.  If it meant having to take a part time job scrubbing toilets so I could afford to do this again, then so be it.  I am blessed and fortunate that I did not have to purchase rubber gloves or a toilet scrubbing brush so that I could share these moments with my Dad again.  In 2012 we went to Poland for Euro 2012.  As you read this, we are in France for Euro 2016.  My Dad, my brother and a family friend, who went with us in 2012, decided that the evil, which is far too prevalent in the world today, would not stop us from living our lives.  When we started this journey back in 2008, I thought I was doing this for my father.  I have come to realize that I have been doing this for myself.  If I was to lose every material possession I have tomorrow, the one thing that could never be taken away from me is my memories.
To all Dads, especially mine, Happy Father's Day.
Until next time.
Cheers,