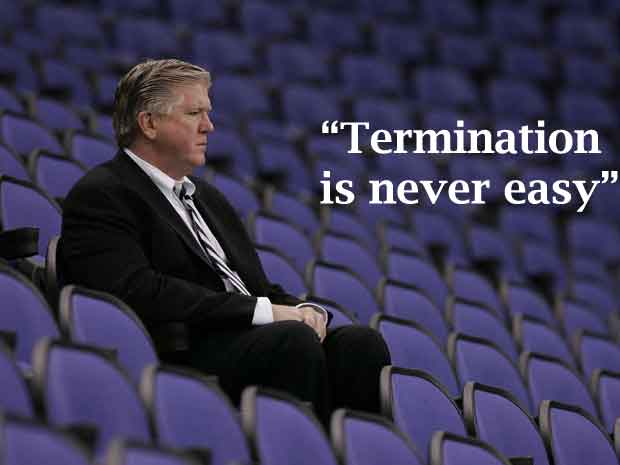 The sports world was a buzz yesterday with the announcement that Brian Burke (President and General Manager of the Toronto Maple Leafs) was told that his services would no longer be required.  As often is the case in these situations; code is used when making the public announcement.   At a press conference yesterday President of Maple Leaf Sports & Entertainment, Tom Ansell said the following "Brian will not have direct authority over hockey operations…We want to thank Brian for accepting his new role and staying on with our organization."  That new role is place holder for Mr. Burke to give him time to work on his transition.  The fact of the matter is that Mr. Burke was terminated, fired, gassed, punted or any other such term that is used by all of us to describe what REALLY happened.  It doesn't matter where your name is slotted on an org chart, being terminated is a devastating process.  Being terminated is something employees take personally.  And on termination the employee is being told that the organization is best suited to go forward without them.  How can than not be personal?  Now throw in the fact that it's all taking place in the public eye, now that's tough.
It's easy to say that the public aspect of termination comes with the territory; absolutely, but there is a human element to it.  Regrettably people forget or just don't care.  I was listening to an all-sports radio station on the way home last night and one caller into the station said, "I was praying for this to happen."  Really?  With all things going on in the world this is what the idiot caller picked to pray for?  Ignorance aside, you can't help but wince when someone goes through something like this in the public domain.  I feel for Mr. Burke but there's a lesson here.  I don't believe his termination was necessarily performance based; if it was, why now?  I think this decision was based on style versus substance.  It's also a case of personal principals trumping corporate objectives; therein lays the challenge.  Effective leaders depend on their intuitive skills and internal compass.  But there's a balance, and the question becomes when do you put your principals aside for the greater good?  Sometimes shareholders, the board or even employees may suggest the path chosen by the leader may not be the right one.  But ultimately the leader will decide if he/she is willing to risk their employment over principal.  As romantic as it may sound that you will never compromise your own principals, there's the issue of pragmatism.  Is it worth winning the battle only to lose the war?
Termination is never easy.  I struggle with having to do it.  It's a duty and responsibility that I have, and I will execute it.  But I can assure you that it's caused me many sleepless nights.  Over the years I've come to accept the fact that I will never be able to truly separate the personal from the business when terminating someone.  I know that it is no consolation for the person being terminated but if there ever comes a day where I don't consider the personal element of a termination…it's the day I will not be able to look at myself in the mirror.
Until next time,
Cheers.