It's OIL!  Let's be nostalgic for a moment and think back to the days when every headline screamed "Mortgages are responsible for all things that could go wrong".  Words such as Bust, Household Debt, Hard Landing, and a multitude of other adjectives that would lead you believe that the four horseman of the apocalypse were on the way .  If I'm not mistaken, I think I read somewhere that the former mayor of Toronto was driven to smoke crack cocaine because he had a mortgage.  Okay, I'm making that up, but I suspect former mayor may be annoyed because that excuse didn't dawn on him.  In no way am I suggesting that today the word "mortgage" is out of the woods, it's just that "mortgage" has company now while traipsing through the evil forest.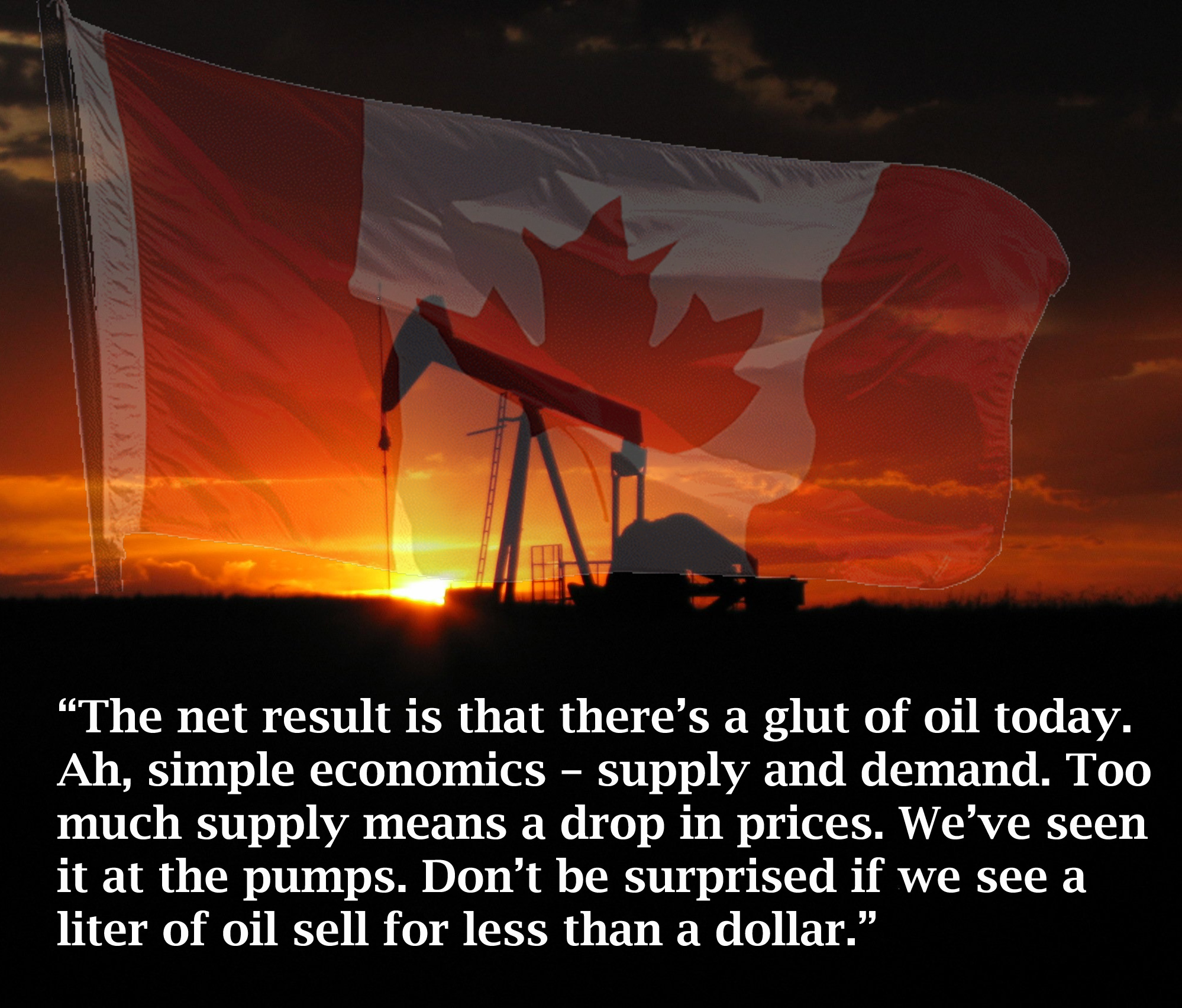 Get ready; it's going to be all oil, all the time. Oil, like mortgages, has tentacles that reach far beyond our borders. Mortgages nearly brought down the global economy, see sub-prime crisis of 2008, but the new partner in crime can have devastating consequences as well. OPEC, meaning Saudi Arabia, decided not to cut oil productions. The net result is that there's a glut of oil today.  Ah, simple economics – supply and demand. Too much supply means a drop in prices. We've all seen it at the pumps, and given that Saudi's said they're comfortable at $60 a barrel, don't be surprised to see a liter of oil sell for less than a dollar. I don't remember the last time I saw a liter of gas for less than a buck. Gosh, it must be 15 or 20 pounds ago. 
The plight of oil today is so juicy, and would make for a good Robert Ludlum novel. There's speculation that the Saudi's are targeting the booming U.S. oil market. It's like they're saying, "you wanna play?…frack this". Then there's the other geopolitical conspiracy theory that the Saudi's and the U.S. are in cahoots, and they've aimed their laser at Russia, in particular Russia's lovable teddy bear, Putin. Hmm, how are things going in Russia today? Let's see, the Ruble has plummeted, their foreign cash reserves are being depleted, inflation is on the rise, and they're on the verge of deep recession. Putin's wondering eye, neighboring countries to annex, may have cost Russia dearly. 
The political gamesmanship aside, we're going to feel this at home. The obvious being that projects in the oil sands may be delayed or halted altogether. That impacts jobs. Federal Tories will have their hands full with problems, due to the timing of the oil prices plummeting. We're not far away from an election, which means the Tories were banking on revenues from oil to build as bigger surplus when they drop their next budget. Wonder if the B.C. Government is regretting not cutting a deal to run pipeline through its province. They weren't morally opposed to the idea; they just wanted more money by way of fees.  I'm reminded of what a very successful entrepreneur once said to me, "pigs get fat…hogs get slaughtered". A lesson for all.
Interesting times ahead of us.  The Bank of Canada Governor, Poloz, used stronger than normal language regarding his concern at the amount of household debt this week.  So mortgages will continue to get its fair share of air time. But for those of us in the mortgage industry, we should whisper a thank you to the gas pump the next time will fill up. It's nice not to be alone. Just thought of something, If you're looking for a stocking stuffer this Christmas, why not a barrel of oil?  Nah, wait till Boxing Day, it will be a lot cheaper.
Until next time
Cheers