Not sure if you heard but Facebook celebrated its 10th anniversary this week. In digital terms that's a lifetime. Maybe it's the speed at which things change these days that makes me take the "let's see where they are next year" approach when it comes to the social media world. There's no denying the influence and success that Facebook has had, and their success means they have a target on their back. To date no one has figured out a way to dethrone the king, but it's not from a lack of trying.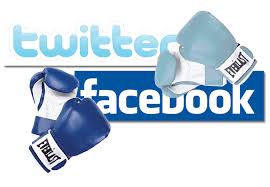 So who's gunning for Facebook? The creators of mobile messaging apps. If you just caught yourself thinking, "great…just what the world needed…more social media" you're not alone. But for those of you who tend to view social media platforms as fads, well, I encourage you read on and have a look at these stat's. Mobile messaging apps are the newer players on the scene, and they have some legs.
LINE is a mobile messaging app whose registered users went from 80 million to 300 million users in just twelve months. Wanna raise the other eyebrow? WhatsApp's monthly active users grew from 350 million users in October of 2013 to 400 million users by December 2013. A 50 million bump in active users in a two month period makes for a happy board meeting at WhatsApp. Active user levels are exploding in Asia, Southeast Asia and Europe. Are mobile messaging apps going to make their way to our shores? Well, there's some evidence they're already here.
Data today suggests that Facebook may have thwarted the latest attempt to supplant the giant. That being said I'm not sure if the folks at Twitter are feeling as comfy as Facebook. There's no doubt Twitter has enjoyed tremendous commercial success but it looks like there might be some dark clouds on the horizon. Timeline views is everything for Twitter. That's THE measurement for them, and the recent plunge in their timeline views has surprised many. In the US views went from 43 billion to 41 billion in the last two quarters of 2013. The same trend held for international users. Timeline views went from 116 billion to 107 billion.
Look, I get it. There's no reason to dust off the trumpet and start playing taps. Maybe there's a perfectly plausible explanation. All it would take for a few extra billion timeline views is for Lindsay Lohan and Paris Hilton to go on a drunken binge. But Twitter can't depend on them so what's causing the decline? Maybe it's the malicious and nasty use of Twitter. Clearly unintended by the creators of Twitter, but nevertheless a problem for them. Of all the social media tools out there it's the one I stay away from the most. I have a twitter account, and apparently I have followers. But I don't tweet regularly because I really don't think anyone cares what I had for breakfast. And I really don't want to attract anonymous haters because I had regular coffee versus decaf.
There's no denying Twitter's tremendous success and social relevance. See the Arab Spring. But meteoric growth can only be sustained for so long. The next new thing is always just around the corner. Now might be a good time to review your social media strategy and try to figure out where you need be. Your customers might already be there.
Until next time
Cheers