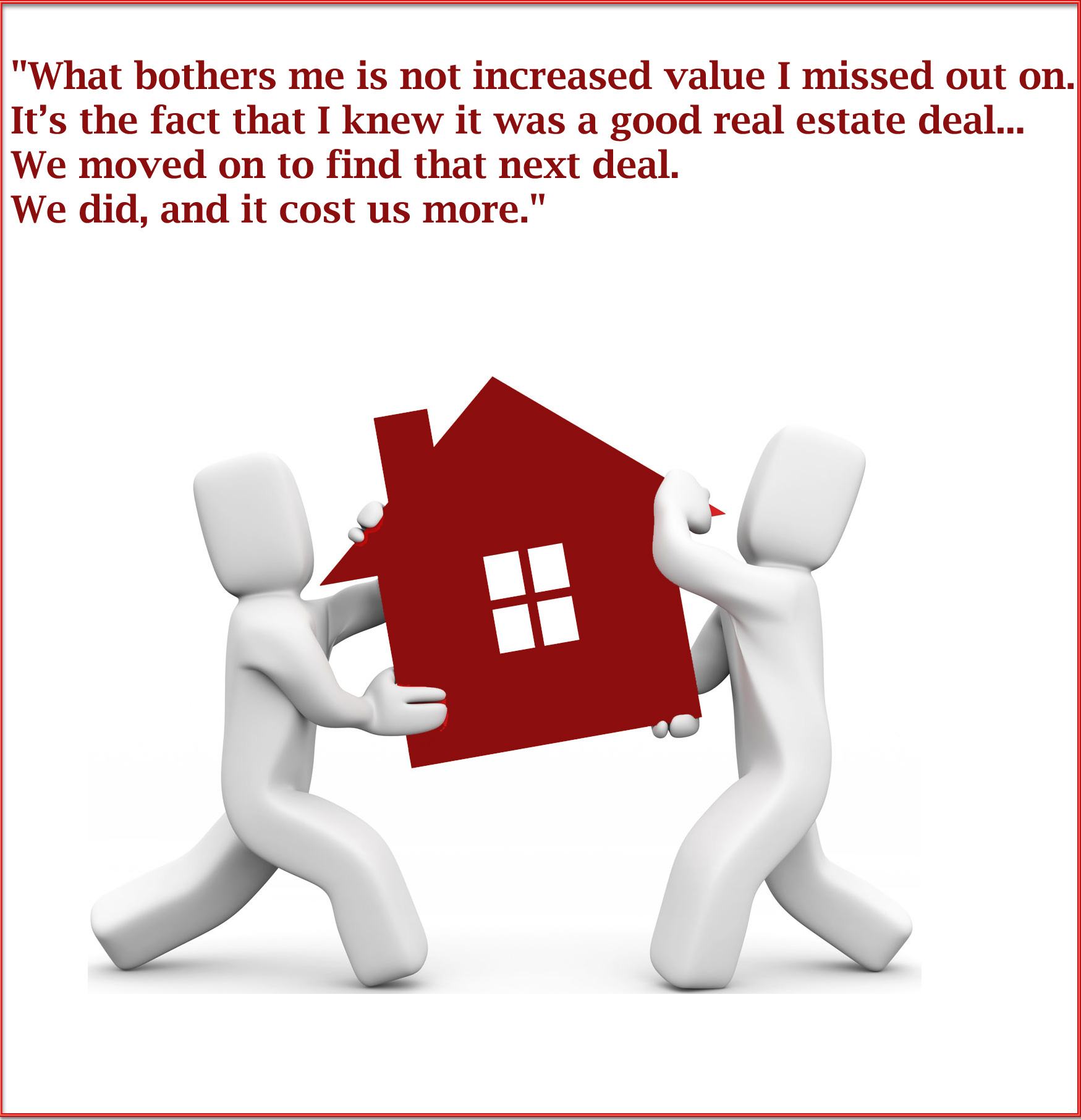 When isn't it?  It may not be wise to hide your money under your mattress, but keeping some of your powder dry to seize opportunity is wise.  One never knows when the "next good deal" may present itself so it is always prudent to be ready when it does.  The challenge of course is identifying a "good deal", and that takes some know-how, and luck.  Some of the best deals I ever made?  The one's I didn't make.  I think we all have those.  You look back on opportunities that you passed on and say to yourself, "whew, thankfully I didn't pull the trigger on that one".  Of course we all have stories about the opportunity we passed on that ended up being a winner.  Personally, I don't let those decisions haunt me.  I never lament losing money that I never had in the first place.  But I will say there was a real estate transaction that I passed on that stills annoys me today.  Here's the Readers Digest version.  A fabulous property was available about three years ago.  The footprint of the house was unique, and the dirt was in a rather exclusive neighborhood, and it was an eye-popping piece of property.  There was no issue of multiple offers because the property had been listed for over sixty days.   That led me to believe the vendor would be somewhat flexible.  I was wrong!  We were about five per cent away on the price, and we walked away from the deal.  That same home would cost me to thirty-five to forty per cent percent more to buy it today.  What bothers me about that deal is not increased value that I missed out on.  It's that I knew it was a good real estate deal, and I let my ego cloud my judgment.  I should have given the vendor the victory at the negotiating table.  The vendor eventually got what he wanted, and we had to move on to find that next deal.  We did, but it cost us more.  Lesson learned, and we won't be making that same mistake again.
I thought of that lost opportunity after reading an article in the Globe & Mail this morning.  The Globe reported that sales of high-end home are on an upswing, rather significantly.  Some 754 homes for $1.5M plus have sold in the Toronto market in first four months of the year.  That's a year-over-year increase of thirty per cent.  So what's driving high-end home sales?   Intuitively, it's the reality of the market, and it's a reflection that buyers that have the resources and the ability to carry the debt if a mortgage is required, they are saying it's still a good deal.  I don't mean to sound crass but a $1.5M home today is not what it was five years ago.  I look at property values every day, and when I see a tiny two bedroom bungalow, in an okay neighborhood, on a postage size lot going for over $700k, the $1.5M price tag is not all that shocking.  In desirable neighborhoods in Toronto, you would have to pay well over $1M for a tear-down.  The numbers are relative, and it's simple as supply and demand.   As for the actual number of transactions in that snack bracket, keep in mind the population base in Toronto.  The largest populated city in Canada will lead in certain categories because of scale.  Also, there's a lot of money in Toronto, and some of these people do not want to miss out on an opportunity.  I think the number one reason why people with means buy higher end properties, because they can.
Scarcity determines the price of all goods and services.   When it comes to real estate in Toronto, there's no time for naval gazing.  In April, homes that sold in Toronto, were on the market for an average of twenty days.  In Calgary, the hottest market in Canada, it was thirty four days, tied with Regina.  It doesn't matter where you want to buy a house in Canada today, irrespective of price point,  time is not on your side.
Until next time,
Cheers.