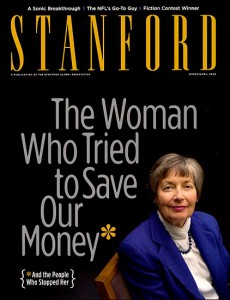 It's amazing what you can learn when you try fight boredom.  I've been on so many flights recently that I've seen every movie available on Air Canada.  Irrespective of genre, drama, action, comedy, date movies, I think I've seen them all.  During my last flight I went to the documentary section, hey I was desperate, and I came across a documentary entitled, "The Warning",  a PBS Frontline documentary.  It's a documentary about an extraordinary woman, Brooksley Born, who tried to take on the establishment and tried to warn the world about the Derivatives Markets and Default Swaps.  Ms. Born headed a small government agency, Commodity Futures Trading Commissions (CFTC), in the 1990's.  Her quest to do what was right was met with fierce resistance by the power-brokers in Washington, i.e. Alan Greenspan, Robert Rubin, Larry Summers and Tim Geithner.  Ms. Born lost her battle, and the world suffered because of it.
I watched this documentary in stunned disbelief.  It's fashionable in the U.S. to blame the Republican party for the sub-prime mortgage meltdown, and there is no doubt that that they deserve their share of the blame.   Yet Ms. Born was appointed head of the CFTC by President Bill Clinton.  The Democrats were in power, they had a vigilant watch-dog in Ms. Born, but they chose to ignore her.  I wouldn't do the story justice by recounting events.  You can watch the episode on line, and I highly recommend investing  fifty-five minutes to watch the documentary.  What I walked away with after watching the documentary was that the economic melt-down of 2008 could have been avoided or at least minimized if Congress had only listened to Ms. Born some twenty years ago.  I also don't understand how Alan Greenspan has walked away unscathed?  And how on earth can Tim Geithner and Larry Summers work in the Obama administration?  But most importantly I came to learn about an unknown hero.  She was moved by principal, and she was extraordinarily courageous.
Watch The Warning on PBS. See more from FRONTLINE.
Until next time
Cheers