Dateline- Sunday, September 16, 2012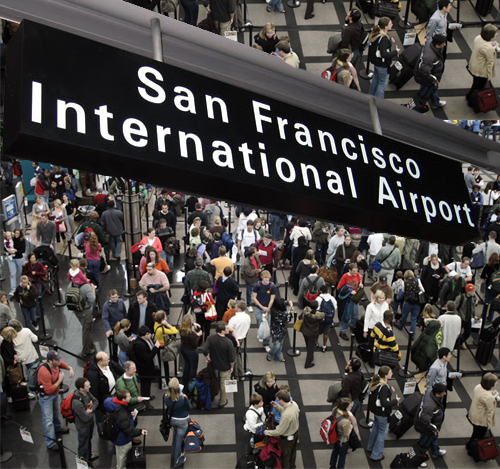 As I write this blog I'm sitting on a plane waiting to go home. Of course the flight is delayed, which seems to be a given when traveling. The process of boarding and getting through security was extra special on Sunday. American Homeland Security is on high-alert due to American Embassies being under attack throughout the Middle East. Security lines were longer than normal which contributed to my overall crankiness. But what would have made even Mother Teresa cranky is flying to or departing from the world's worst airport known to man, San Francisco International Airport.
If at all possible avoid the disaster of the San Francisco International Airport. One option is heading to LAX in Los Angeles and drive and extra two or three hours. It's the same amount of time you need navigating this incoherent and most idiotically designed airport. This is not just my opinion; the people who work there feel the same way. Announcement after announcement is made abound flight delays. One customer service agent actually announced, "The delay is our fault because we don't have enough runway's, that's the way it is folks at San Francisco International Airport". Not enough runways? I don't know anything about running airports but I would assume the number of runways is important.
I don't expect much from airports. I get it, it's not a fun place to be and we're all cattle to be herded in a certain direction. We all put up with airport staff that have no idea about customer service, (by calling us passengers it means we can be treated like gum at the button of their shoes) and act as if they're working there forcibly and under duress. We are all willing to put up with this for the simple pleasure of getting in and out of an airport in an orderly manner. Not much to ask, unless you're at San Francisco International Airport. The car rental process at that airport is laughable. The location of the car rental lots might as well be in Oregon. Getting in and out of the building or to your terminal requires a Sherpa Guide and a donkey. That's just the beginning of the Nightmare on PO Box 8097.
All will be well in a few hours when we touch down in Toronto. Can't wait to walk through that sterile, humorless, devoid of any personality, cavernous, charmless airport which is better known as Toronto Pearson International.
Dateline – Thursday, September 20, 2012
Still cranky, maybe it has nothing to do with airports. Maybe as I get older I'm becoming a curmudgeon. For fun I will go home tonight and bitch about teenagers, politicians, the weather and my chronic back pain. Anyone want to join me for the early bird dinner special? Oh wait, that's in Florida. Don't get me started on those idiots down there. I can't believe how slowly they drive in the passing lane on the Interstate, and the weather, my god it gets hot, and…
Until next time
Cheers