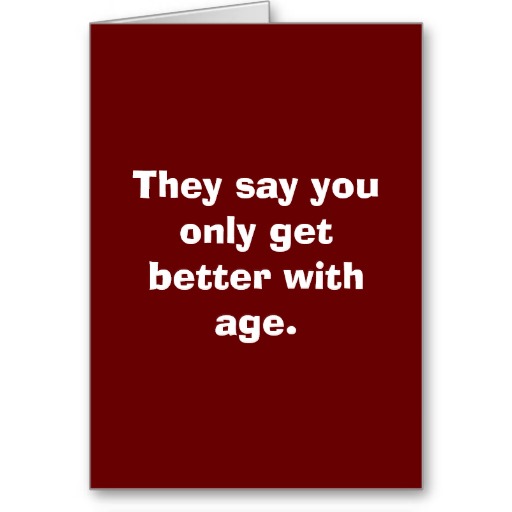 That seems to be happening with greater frequency the older I get.  Gone are the days when to-do items were stored between my ears, and I would never forget things.  Maybe it's the information and responsibility overload that we all have to deal with, which ultimately impacts my ability to remember things. For example, it appears that I have to write down to remind myself to write a blog.  Alex, I'll take Irony for $200, please.
Over the last few months my life has been chaotic.  The majority of the chaos is self-imposed, and it does leave me wondering why I do this this to myself.  There's a part of me that believes that I might be suffering from Real Estate Attention Deficit Disorder.  I won't bore you the details but suffice to say that real estate matters are all-encompassing for me today, and I'm convinced that it's contributing to my memory issues; that and getting older.
Next to my memory issue, I've just realized there are plenty of other signs I'm getting older.  Like certain product manufactures and entertainment providers not caring about my age demographic. Clearly Apple cares little about 53 year old males.  If they did they wouldn't make the damn font so small and the letters on the keyboard so close together.  And exactly like you would treat a 15 year old Apple always want to correct my spelling when I'm writing emails. No Apple, that's not the word I was trying to spell.  For all things holy, stop torturing me and reserve that functionality for kids with acne problems.
Here's a sign of an entertainment provider who doesn't want my money, MLSE (Maple Leaf Sports & Entertainment.  One of the sports properties they own, the NBA Toronto Raptors, just announced recently that Drake has been hired to be their global ambassador.  Question – Who the hell Is Drake?  Thank you Google- it appears this Drake fellow is a hip-hop artist, and he only has one name – just like Cher, and Moses.  Does MLSE believe that a 53 year old male like me, who makes a modest living, will be enticed to buy a Raptors ticket because a rap artist is their global ambassador?  Don't get me wrong, who doesn't like wearing a wide rimmed cap that looks like you should be driving a John Deer lawn mower, and baggy jeans that covers only half your ass, but enough to buy a ticket to a basketball game?  To MLSE I say…word up.
Back to my memory issues, I will make a note in my calendar that a blog post is due every Friday.  And I'll get to that as soon as I find my iPhone I threw out the window.
Until next time
Cheers