Needless to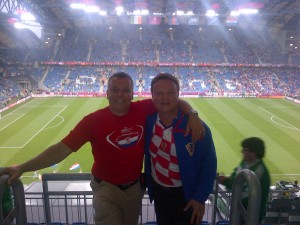 say that 75% of our traveling group was in a euphoric state after the game. Our Irish traveling companion was disappointed but like all the Irish supporters in the stadium they accepted defeat with grace.  I was stunned at the number of Irishmen who congratulated me as we walked the streets after the game.   Bar none the Irish supporters are the best fans anywhere.
The atmosphere in the stadium was electric.  This was like a home game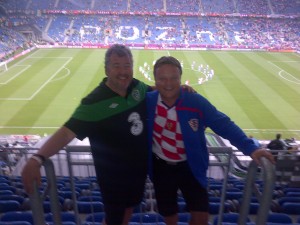 for the Irish because 80% of those in attendance wore the Irish jersey, and they were in good voice.  They sang, and sang, and then they sang some more.  Hours before the game, and definitely during the game, the Croatian supporters were serenaded with "you'll never beat the Irish".  They continued to sing even though we were dissecting them with surgical precession.  When the final whistle blew I sang a song to myself – I was surrounded by thousand of Irish fans and I wasn't about to test their good nature,"we just beat the Irish".
On to the Italians, who smugly believe it's their god given right to advance to the next round.  According to the Italian press a victory over the Croatians is but a mere formality.  That's just the way we – Croatian supporters – like it.
Until next time
Cheers