My dad grabbed my shoulders and turned me in his direction.  He hugged me, kissed me on the cheek and said, "this is the best gift anyone could have ever given me".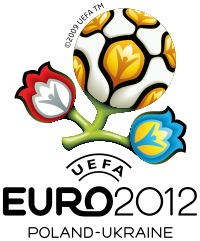 Over the years I have learned, sometimes painfully, it is not material possessions that make you happy.  Sure, nice clothes, cars and houses are nice but they end up being disposable.  Experiences create memories, and that's something no one can take away from you.  I am about to embark on a journey which will create a lifelong memory for me.  On Friday, my dad, my brother and a family friend of ours are heading to Poland for Euro 2012.  For those not familiar with soccer or this tournament, it's a tournament that brings together the top 16 soccer nations in Europe who will compete for European soccer supremacy.   The quality of soccer at this tournament is by far the best.  It far exceeds the World Cup because unlike the World Cup, no dogs qualify.  The teams which qualify for Euro 2012 are some of the strongest teams in the world.  Thousands of supporters will make a pilgrimage to either Poland or the Ukraine, the two host countries, for this tournament.  That's what makes this tournament so exciting, it is nation against nation with very passionate fans.  Sometimes the passion can cross over the line but if it's anything like Euro 2008 in Austria, you would have to be a complete moron to try anything stupid.  I had never seen security like I did in 2008.  Given the police presence and visible militia during the tournament in Austria, I think it was the safest place to be in all of Europe.
My reason for going to Euro 2012 is because of the experience I had during Euro 2008.  Our entire family went to Austria in 2008, but it was the boys who attended 3 games during the qualifying round.  It was a special moment and time to spend with my dad and my brother.
As point of background, I'm of Croatian decent.  I was born and raised in Canada, but like many Canadians, my parents immigrated to Canada.  They escaped from communist Yugoslavia, for the sole purpose of a better life.  My parents instilled great pride in me about my ancestry, and they forced me to go to Croatian language school every Saturday, for seven consecutive years.  Trust me, back then I was none too pleased to get on a bus every Saturday to go to yet another school. Today?  I'm thankful they did it.  I can converse in a second language, more than just swearing, and make my away around Croatia when we go and visit family there.  But here's the thing, my father never put Croatia over Canada.  He is so proud to be Canadian that sometimes it put me to shame.  After a brutal and bloody war, Croatia became an independent country in 1992.  I don't believe my father honestly thought he would ever see the day that Croatia would gain its freedom but he never stopped hoping.  I can't even imagine what it must felt like when that day finally arrived for him.  How could I understand being born and raised in Canada, where what we take for granted is wishful thinking for those who came from an oppressed country.  On Croatian Independence Day, my Dad will raise the Croatian flag at his home just north of Toronto.  But here's the thing, right next to the Croatian Flag is the Canadian Flag.  He would never display one without the other.  He is a proud Canadian and Canada is his home.
I go back fou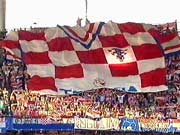 r years ago and I remember it like it was yesterday.  We were in Klagenfurt, Austria to watch a David and Goliath soccer game; Croatia, a nation of four and half million people, against the mighty Germans, a nation of eighty two million people. Croatia produces some magnificent soccer players but let's get real, this is Germany.  We went into the stadium hoping for a tie, and with 10 minutes left in the game Croatia was leading by a 2-1 score.  The last 10 minutes of the game was the longest 10 minutes of my life.  The mighty Germans threw everything at us; they kept attacking us in waves.  Yet somehow the lads wearing the checkerboard jerseys kept them at bay.  We were horse from singing and chanting, hurling verbal abuse at the German spectators on the other side of the pitch.  I remember looking at the clock and it read 90 minutes.  The game should be over but in soccer you always play a few extra minutes to make up for lost time due to bad acting (for illustration please see the Italian National Soccer Team).  So I kept my eyes of the referee and I was willing him to blow the final whistle.  It finally happened, it was sheer pandemonium.  The three of us were jumping up and down like idiots.  We were high fiving and hugging total strangers, and then my dad grabbed my shoulders and turned me in his direction.  He hugged me, kissed me on the cheek and said, "This is the best gift anyone could have ever given me".  It was at that moment that I said to myself that if my father was in good health and able to travel we would do this again; if I had to take a second job scrubbing toilets to be able to pay for the trip, so be it.  The experience and memory will stay with me for a life time.
Joining us this year is someone that I've been friends with for thirty years and he knows my dad and brother really well.  Kevin Conroy is his name, and as you may have surmised that's Irish.  The first game we will be attending is Croatia versus the Republic of Ireland.  I told Kevin not to give sitting in the Croatian section of the stadium a second thought.  He'll be more than welcome wearing his green jersey.  Hey, I did all the organizing and got all the tickets.
Until next time,
Cheers.