I was in Vancouver this week for a quick trip, and I had to ask the cab driver where all the traffic was?  He responded, March break.  Ah, that makes sense. That logic applies to every city in Canada, with exception of Toronto. Toronto's new Mayor declared war on traffic in early in January, but it now appears that the battlefield combatants are suffering from battle fatigue. Slowly but surely Toronto's traffic patterns are going back to "normal", in other words, not moving.  So it was a nice treat to dive around Vancouver a couple of times with no traffic congestion.  I was actually thirty minutes early for all my meetings.  Building in an extra thirty minutes in travel time is a result of conditioning.  Nevertheless, it was nice to get be on a road where traffic wasn't snarled and to be reminded that March break is here.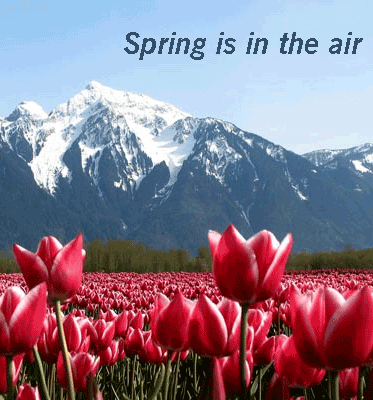 I suspect we all have our own individual signs of hope, meaning spring must be coming.  It's been a chilly winter in the East, and signs of relief are welcome.  In fairness the temp's have normalized in the East, which means more people may be going out to look at properties, which is great all around.  I have two signs of hope, the beginning of Major League Baseball spring training, and the Masters Golf tournament.  The timing is perfect, baseball spring training starts in March, and the Masters is always in April.  Seeing green grass, and people walking around in shorts, gives me hope that it can actually happen here.  And for those who can't wait, and there is many in this country, it's off they go to warmer climates next week. 
Like thousands of Canadian's, we too are heading  South next week.  Burglar system on, remote cameras functioning properly, sniper hiding in trees, house sitter arranged.  Ah, peace of mind.  We were looking for sunshine and warmer temperatures. We had two choices, Florida or Vancouver?  Florida wins, the flight is much shorter, and truthfully I couldn't put up with the insufferable boasting by my friends in the west about how spectacular their winter has been.  Sunny, warm, blah, blah, blah.  So, I'm going where it's warm, where I get to hike up my pants just under my chin, and hit all the early bird dinners at 4:30 in the afternoon. One thing is for sure, I won't be alone.  I came across an interesting real estate statistic that on the surface seems staggering.  It is estimated that since the "Great Recession" of 2008, and beyond, over 500,000 Canadians have purchased a home in the state of Florida.  As the American real estate was cratering, Canadian's swarmed in and said "we're here to help".  Sure Canadian's were buying properties which were ridiculously undervalued, sure they came in and seized the moment, but hey, it's the least a neighbour can do. And now there's even a greater upside for Canadian's who went in bought low, currency conversion. The exchange rate on the dollar has contributed an additional 20% return on your investment. Sure, the carrying costs increased by the same percentage but that's okay if you're selling your property in Florida today, and you get all that extra paper with pictures of dead presidents on it. Couple that with the fact the property values have increased in Florida in the last 24 months, well done. Buy low, sell high, a business principal which never falls out of fashion.
For those of you heading for warmer climates, enjoy! For those of you sticking around next week, enjoy the fact that there are less people on the road; unless of course you live in Toronto. 
Until next time,
Cheers.