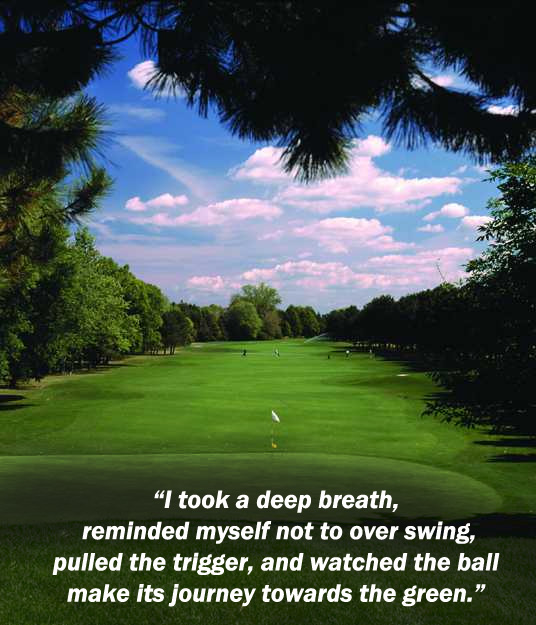 This week I experienced a momentous occasion.  A birth of a child?  Extraordinary company results?  The solution for peace in the Middle East?  No, something far more significant.  The event occurred at my home golf course, Meadowbrook Golf and Country Club.  I was on the seventh hole – par 3; it's a beast of a hole.  From the Gold's it plays 207 yards.  The hole is slightly elevated, the green slopes left to right, and it's fast, bikini waxed fast.   To make the hole more challenging, the greens keeper decided to place the pin front left, which meant the hole was well protected by a front side green bunker.  Just evil.  The wind was blowing slightly into me from left to right, which would pose a challenge for my natural ball flight of right to left, a draw in golfing vernacular.  I had to choose my weapon and I decided to pull out my Adams 3 iron hybrid.  The club was a Christmas gift from my little brother Tom, he's eight years younger than me but he'll always be my little brother.  Truth of the matter is I've been struggling with that club.  Just can't seem to get my natural ball flight when I use that club.  I wasn't feeling overly confident when I pulled the club out of my bag.  I know what you're thinking, "so this was when one of the old codgers you were playing with suffered a massive heart attack, and there was no time to get the defibrillator, and that's when you sprang into action, administered CPR and breathed life into the golfer who was on the verge of walking towards the bright lights of the hereafter?"  Patience, grasshopper.  I walked slowly to the gold tee blocks, my playing partners (one of which who's been a member of the course for 50 years) were playing the blue tees, some fifty yards in front of the tee blocks I was playing.  Therefore, I had to take the lonely walk by myself to the tee block, just me and my thoughts. Knowing full well that three sets of eyes were on me, willing me to get on with my shot so they could get on with their game.  You're probably thinking, "so this is when the momentous occasion occurred?  A wild animal emerged from the woods, charged one of your playing partners and you gallantly, and bravely, interceded and fended off the wild beast?"  Forbearance, dear reader.  I took a deep breath and reminded myself not to over swing.  I pulled the trigger and made contact with ball, and watched it make its journey towards the green.  My playing partner, the 50 year member who knew every subtly of the course, says out loud ''this is gonna be good".  That was sweet of the older gent to be so kind.  I watched the ball hit the front slope of the green, it took one hop and rolled forward about 10 feet.  And then it happened, I heard the noise of the ball hitting the flag first, and then the ball disappeared.  I just jarred my first ace, a hole- in-one!
There was a delayed reaction by me and my playing partners.  That's probably because you think your eyes have deceived you, and that the golf gods were playing a cruel hoax on me.  But then reality sets in, and my emotional outburst was based on playing this stupid game for over 30 years, and all the frustration that comes with it.  I think everyone in Southern Ontario heard me yell, " IT'S IN"!  A 207 yard par 3 hole-in-one, a manly man's hole.  My playing partners congratulated me, and the 50 year member told me that after the 9th hole I'm to go to the administration office, report my hole-in-one so that they can prepare the 50 free drink tickets the course provides for any member making an ace. I had no idea the course did this, and if the truth be told I would have gladly bought 50 drinks to celebrate.   Needless to say I was pretty popular after the round.  Free alcohol increases popularity levels.  Everyone was very gracious and congratulated me, and some even shared with me their hole-in-one experience.  I smiled and listened patiently, all the while thinking, "SILENCE, THIS IS ABOUT ME".
I love the game of golf but alas she does not love me back.  She continuously seduces me with her majestic beauty, and at times she lets me believe that I can have my way with her.   The quick study I am, I've been falling for this for over 30 years.  What made her decide to give me this one moment is beyond me.  Maybe it was a reward for my faithfulness.  But I fully anticipate that she's already made plans to keep me in line.  By the way, if you would like to hear more about my hole-in-one, feel free to call me.  I'll provide background music (to help set the mood) and put on my best radio voice while regaling you with every detail. 
Until next time,
Cheers.