And no, I don't mean the Bank of Canada lowering the overnight lending rate. Given the BoC's economic forecast for Canada, the move to lower wasn't a surprise at all. The banks quickly followed and lowered their prime rate. Although the banks didn't match the BoC's full rate discount, they still lowered their prime rate, which ultimately benefits the borrower. Back to what everyone is talking about. Good lord, it's also not the Pan Am games being hosted in Toronto. Truth be told, the games have produced a collective yawn in Toronto. In no way is that a reflection of the highly dedicated and committed athletes who are participating. It is simply a case of Toronto not perceiving the games as being "big league". If it was the Olympics, tickets would be hard to come by. Some may characterize our Toronto's view of these events as arrogant, pompous or even self-aggrandizing. Rightly or wrongly, it's just the way it is. What everyone is talking about is the other event that recently took place. That's right, The Mortario Cup golf tournament.
Now for the few of you who do not know what I'm referring to…and that would be everyone other than the participants and their immediate families, let me explain.  The Mortario Cup started way back in 2005. It is a Ryder Cup format, played over two days. There are two teams – Team Blue and Team Red. These teams are made up of individuals in the mortgage industry in Ontario. The golfers are the who's-who of the mortgage industry – well, at least that's what we tell ourselves. The same two teams play against each other every year and the competition is fierce. What does the winning team get? Firstly, the Trophy, she really is beautiful. Secondly, bragging rights. Trust me, that's quite important. Third, the losing team has to pay for the champion's dinner including alcoholic beverages. That in itself can produce a bit of an owie on the credit card. I know this for fact because my team, Team Blue, hasn't won the damn tournament for four years! Three loses and tie (a tie means the previous winning team retains the cup and we ended up paying for that dinner as well). A drought of four years, which mercifully ended this year.
I had the pleasure of being the captain of Team Blue this year. I have the same honour next year, along with hosting the Mortario Cup Tournament. This year was much easier for me. My primary responsibility was to put my teammates in the best possible position to win. I was responsible for the pairings, matching our players against players on the other the other team, and for the overall strategy.  Do you come out with your strongest players from the onset or do you hold them back to the end? Being on the first tee, of the first match, everyone gathers around. I can't tell you how nerve racking that is. You're alone on the tee box, and there's 23 guys watching. The silence is deafening when the golfer is getting ready to swing.  His teammates are silently hoping for a great tee shot down the middle, while the opponents are thinking, "please hit it in the bush". Leading things off requires mettle, and not every player can deal with it. Historically, Team Blue has excelled during day 2 of the competition – the singles matches. But our Achilles Heel has always been Day 1 of the tournament, team play. That was the key, and it was amazing to watch 11 alpha males come together and put the team first. I knew this year was going to be different. Months before the tournament I stared reaching out to my teammates, and I was struck by their immediate responses to my emails. These gentlemen are all busy, very busy. But not busy enough to not be engaged. They wanted to win, badly. Candidly speaking, I am nowhere near the best golfer on my team. Out of 12 players on my team, I'm somewhere in the middle of the pack as it relates to golfing prowess. So I thought it might be a little tricky telling golfers, who are far superior at the game than I, who and what order they will be playing. Not a negative word was spoken, all they said to me was "let's do this". And do it they did. Out of a possible 24 points over two day of competition, the final score was Team Blue 15 – Team Red 9.  The trophy was ours.
I can say with absolute honesty that I could care less how my own individual match played out. For the entire round I was thinking about how my teammates were doing, and waiting for word to trickle back to me about how their matches were progressing. When I was told that we had secured enough points to win, a wave of relief washed over me. The boys did it, and I was so happy for them.
To my teammates, Art Trojan, Donald Zuill, Marc Marchese, Tom Hogg, Ron Swift, Mark Tamburo, Mark Goode, Marc Shendale, Karl Straky, Mark Kurzner and Bill Nugent, thank you for allowing me to be a kid again, and to be a part of winning sports team.
As you can see by the pictures, there were a lot of happy faces, and as I did say there was a lot of alcohol consumed at the champion's dinner. That's evidenced by the picture of my hotel bed after the celebration.  It was such a restful sleep.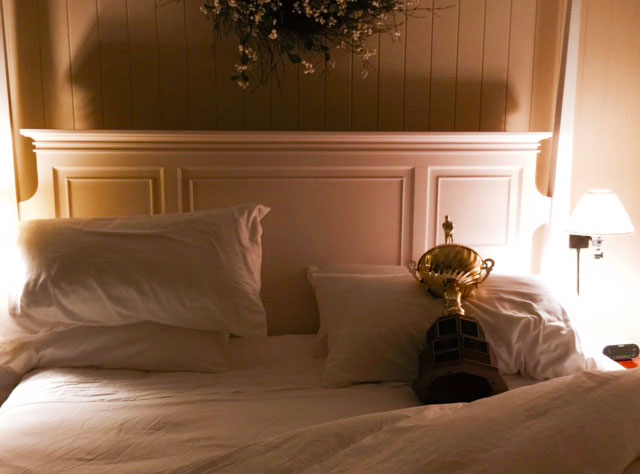 Until next time,
Cheers