The story I'm about to share with you is true.  The events occurred on Monday, February 06, 2012.  The names have not been changed to protect the innocent or guilty.  Now that I have the disclaimer out of the way I can get on with the story.  The story revolves around a man who is kind, understanding and always has a sunny disposition.  That man would be me.  Hey!  What the hell are laughing for?  It's my story and that's how I see it.  Moving on, t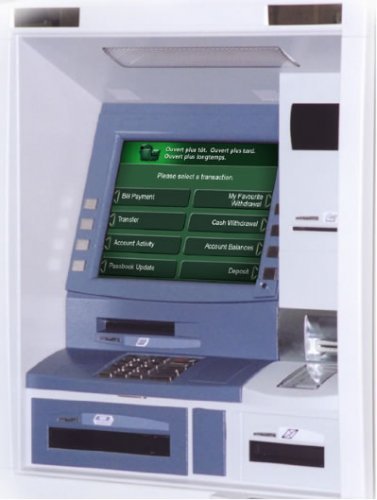 he story is about moi and the ATM machine where I bank.  I won't mention the banks name but their initials are TD.  I've done my banking there for years but they don't have my mortgage.  My mortgage is with this wonderful little company named Merix Financial.  This company is brilliantly led, with unbelievable staff and access to more mortgage products than most.  The blatant plug aside, the story goes like this…
It's about 2pm and decided to grab a coffee at Tim's.  While at Tim's I realized that I had just about enough money in my wallet to cover the coffee and a muffin.  I needed cash because I was going to the Leaf game that evening and I suspected I few beverages would be purchased.   So off to my bank I skipped to make a withdrawal.  I put my I card in, entered my pin number and selected "my favorite withdrawal" option, "X" dollars with no receipt.  So the machine does its thing, you know the noise it makes, and spits out the money.  But the stupid machine wasn't working properly and one of my $20 dollar bills got stuck in the dispenser.  Thank god for my sunny disposition or might have started cursing, in English.  I never call it cursing when I spew profanities in my parent's mother tongue.  Anyway, I'm letting her rip in Croatian, and I finally got my money.  So I get back to my office and I was thinking about what happened at the ATM when it hit me.  What if another $20 bill was supposed to come out and I was short changed?  You see I never count the money.  It's a bad habit but for some reason I trust those machines.  Not after what I just experienced so I opened up my wallet and counted my money.  Damn, the machine gave me an extra $20 bill.  What to do?
The first thing I did was to count the money again, and there was no doubt that the machine spat out an extra $20.  I'm giggling when the little devil Boris appeared on my left shoulder.  He started to whisper in my ear "you're not going to walk all the way back to your bank just to give them their money back, are you?  Think of all the fees they've charged you over the years. Don't give it a second thought and get on with your life".  Then this other Boris appeared on my right shoulder, he was vaguely familiar because I think the last time I saw him was 1978.  He whispers in my ear, "Don't be a fool.  It's a pain in the ass to walk all the way back to the bank but you have no choice.  Are willing to sell your principals for 20 bucks?  Besides, think of the shocked look on the face on the branch employee when you return the money.  Have some fun with it."   So I off to the bank I went to return the $20. 
I walked up the reception desk and asked if I could speak to the branch manager.  The expressions on the woman's face changed immediately, and she blurted out, "I'm sorry but the manager's not in today".  I suspected she was being less than forthright.   I'm returning money to the bank, and it's beneath the emperor to meet with one of his loyal subjects?  Alex, I'll take irony for $200.  Anyway, I explained what happened and the employee asks, "are you sure it's not your money?"  This is code for, "don't be idiot, just walk away".  I confirmed it wasn't my money and I just want to give the money back.   The bank employee thanks me, takes my name and number, and says that someone from the bank will be contacting me.  Well, it's now day three and I haven't heard from anyone at TD.  To be totally frank I don't know what to expect from them.  The expectation was set by their employee that someone would contact me.
If I don't hear from them I'll find my own way to thank myself.  I'll walk into a branch with a couple of buddies and take the green chair home with me for the
weekend.  If the branch manager happens to be in that day, I'll tell him he can consider the $20 I returned as rent for the chair.  By the way, if the folks at the Green Chair are doing so well…why can't they afford a couch?
Until next time,
Cheers.