"Shareholders are rethinking their position in Facebook"
On some level we all believe that certain companies and brands are a sure thing.  We think this way without doing any in depth financial analysis.  What influences our thinking is our perception of  these companies and brands.  If companies have been around long enough, and they master the art of brand awareness through advertising, we naturally assume these companies and brands are money makers.  We can all name three companies, without damaging any brain cells, that we believe are a sure thing, Apple, Coke-Cola and McDonald's.  No deep contemplation required, it's right there at the tip of the tongue.  The reality is these companies have a storied history, and in Apple's case, a history of ineptitude or at the very least questionable business decision making.  Hard to imagine today by there was a time when you could point to Apple as an example of what not to do as a business.  Clearly that's not the case today, and Apple today is one of the most successful and recognizable brands in the world.
 In today's world brand recognition and awareness does not guarantee a sure thing.  There's been two recent examples of companies who bought into their own brand appeal, and concluded that investors would over-pay for the right to have a piece of the action.  I enter into evidence Facebook as exhibit " A", and Manchester United as exhibit "B'.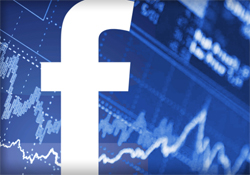 One of the most anticipated IPO's in recent memory was Facebook.  Investors were salivating at the opportunity but not nearly as much as the principles of Facebook.  Investment bankers representing Facebook believed that the  Facebook brand would lead investors to set aside sound investment principals.  It was assumed that investors would pay a premium because it was the Facebook brand.  Hubris?  Hype? Greed?  They all played a part in Facebook initial IPO and present day values.  Facebook stock took a major hit last week, and shareholders are rethinking their position in Facebook.  Goldman Sachs has a stake worth $900m in Facebook, and they along with Microsoft can sell their stake as of August 16th.  What to do?  Well, they'll have to think about Facebook loosing $38.8 billion in market value since the IPO.  It's also estimated that over the next 9 months about 1.9 billion shares will become available as compared to the the fewer than 500 million shares available today.  Does the strength of the brand trump supply and demand principals?  You don't have to be Warren Buffet to come up with the right answer.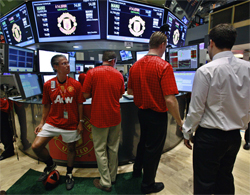 Is there a sporting franchise with greater brand recognition than Manchester Untied?  Soccer may not have the appeal in North America that it does on every other continent but there's a good chance that even the uninitiated to the wonders of the beautiful game would recognize the name Manchester United.  It's been estimated that United is the most valuable franchise on the planet, get ready for this, worth an estimated $2.3 billion.  As sure a thing as it gets. Almost.  Manchester United debuted on the New York stock exchange on Friday, anticipating share value to range between $16 to $20.  The market spoke and settled in at $14.  A partly $100m less than what the owners anticipated, and they'll have to settle on the $230m which was raised in the IPO.  No one is going to shed any tears for the owners of  Manchester United and the Tampa Bay Buccaneers of the NFL, the Glazer family.  Other than the Glazer family maybe, a debt load of $661m for the soccer team alone is a big number to crack every month. 
 So what will we make of Facebook and Manchester United's foray into the world of IPO's? Well, the principals are worth a lot of money and so are their respective companies. However, it's clear that investors  are not willing to pay an inflated priced for chic alone. 
 Until next time,
 Cheers.