Growth is something we should all focus on.  For MERIX, we're focused on growth in terms of numbers and market share but also professional and personal growth, creative and strategic growth – for MERIX growth is our Kool-aid.  When looking for inspiration and what growth means for MERIX, I didn't have to look far.
We've had the opportunity to get to know (and I use that term very lightly) the professional alpine skier – Larisa Yurkiw.  Her goal of competing at the Olympic games was shattered due to a severe knee injury which severely set her back (watch her inspiring video below).  She pushed through and is now working harder than possible to achieve her dream of being a medal contender in Sochi 2014.  She's got guts and she has the heart of a champion. All she wants is another shot at the Olympics, and a chance to represent Canada.  Larisa embodies the type of resilience and spirit that is akin to MERIX.  We may be a small fish swimming amongst the whales and we realize have hurdles to jump and hills to climb – but we're not afraid of hard work, taking risks and finding solutions – MERIX isn't going anywhere.
Through our winter campaign we've stood behind her and tracked her progress.  We would like to thank our MERIX originators who have generously supported this cause, with your help we have raised $5000!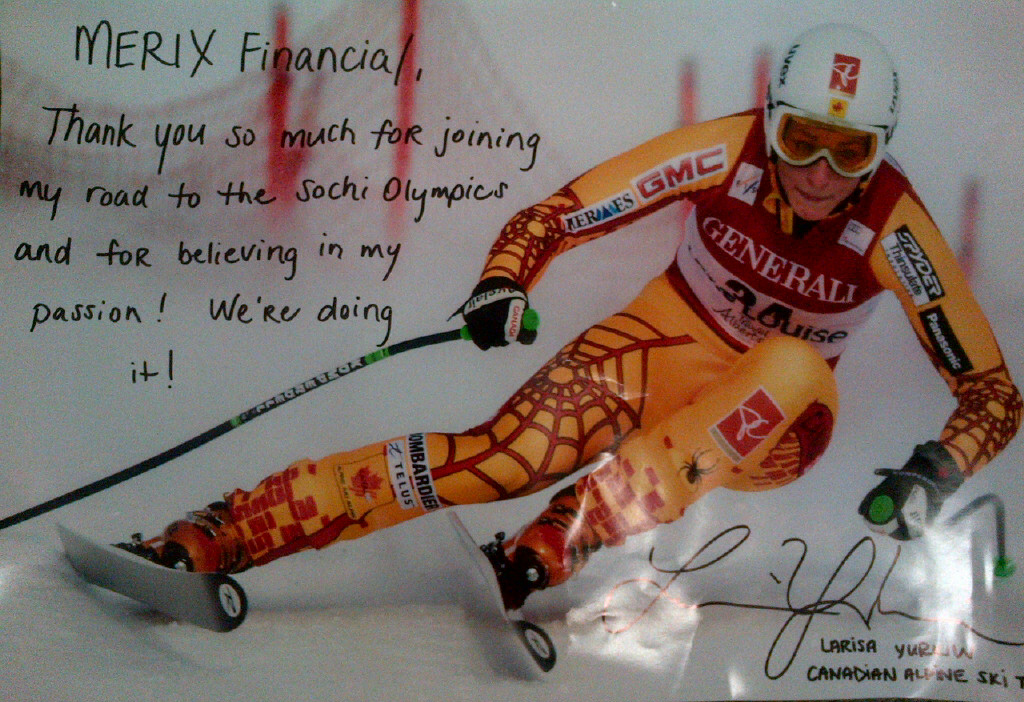 Larisa has generously agreed to share a few of her own thoughts on the topic…
I'm writing this from Squaw Valley, California.  It's an absolute dream here.  Often the perception of the glamorous lives of athletes is inaccurate.. but not here.  Today we ski raced in the morning and played beach volleyball this afternoon.  I have a heart full of gratitude for the opportunity to spend a week with great teammates and the chance to use up a handful of nerves for the races.
As I think of ways to explain my personal growth, having heard this is a current theme for MERIX Financial, my mind wanders to what I didn't do.  That's the truth.  I'm my worst critic.  I know this unrelenting pursuit of 'more' has driven me hard to achieve my goals.  But I am slowly learning to be a better friend to myself.
This past season has begun to teach me about soaring in a whole new light.  I'm growing because I'm friends with the challenges that have been my teachers.  They've hurt me and often shifted my focus in a negative way… but, for the most part, they are positively affecting my life.  It has taken a long time to recognize why words like perseverance and courage had to be redefined for me… I thought I knew enough about them, but growth is so powerful.  For me, growth is movement.  Everything from moving through a frustrating weekend of racing to moving through a turn on my skis at 130km/h, opportunities present themselves everywhere.
On paper, I would think some of my staff have seen little to no growth in me since my injury and 2-year break from sport.  On paper.  But I know that it was my injury, precisely, that guided me to learn lessons, meet certain people and look a little further within, that has made me so much more powerful.  With a few more lessons on patience, I'm going to find out real soon how far I've come and how far I can go with this journey.
MERIX, thank you for joining me on this adventure.  I feel confident that each of you can relate on many levels.  Let's see how far we can go!
 - Larisa
https://twitter.com/larisaYurkiw