That famous line was attributed to Jogi Berra, Hall of Fame New York Yankee baseball player. Besides being a great ball player, Berra was also known for malapropism, mangling the English language. Normally it's done for comedic relief but in Berra's case it was his standard way of speaking. I thought of this quote based on what's been happening to the markets over the last week. It's starting to feel like 2008 all over again. Back in 2008, the world faced an economic crisis. The news was stunning. How on earth could iconic companies such as Lehman Brothers and Bear Sterns fail? Yet that's exactly what happened. The U.S. Government forced banks to take T.A.R.P. (Troubled Asset Relief Program) money to ensure that lending would continue. The ministers of the G7 countries rushed to Washington for emergency meetings because there was fear that the markets wouldn't open. As events unfolded in 2008 we were all left wondering what's next? It appears the other shoe has dropped.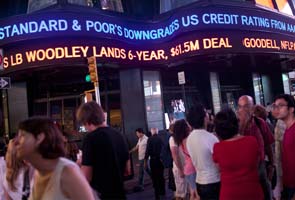 One of the significant differences, relative to our present day situation, is the fact that back in 2008 nobody questioned America's credit worthiness. That all changed last Friday when S & P (Standard and Poor's) downgraded the US from AAA to AA Plus. Not since 1917 has the US been rated lower than AAA. Not surprisingly the Obama administration has come out swinging against S & P. The administration is questioning S & P calculations and motives for the downgrade. Funny how S & P's motives were never questioned when the US had a AAA rating. I should note that the other two rating agencies, Moody's and Fitch, have not downgraded the US. So the question is, which rating agency has it right? In time the answer will become clearer but I'll say this about S & P, the move they made on Friday took a lot of chutzpa. That's a Yiddish word for tenacity and guts. I suspect shirt collars are feeling a little tight today in the corporate offices at S & P.
Based on what's happened in the last week, what does this mean for Canada?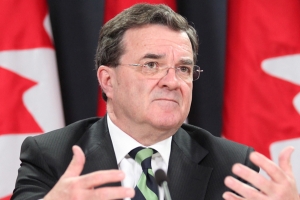 Firstly, no one can predict with any certainty. We're in-uncharted waters here. Besides what's happening in the US, numerous countries are in dire straits financially in Europe. All of these factors will have an impact on us. "Canada is not an island," Finance Minister Jim Flaherty said late Friday in a statement. "We are a trading nation, with about a third of output generated by exports and deep linkages with the U.S. economy. The global economic recovery remains fragile and this uncertainty may eventually impact Canada". One of the ways it may impact us is that if borrowing costs increase in the US, due to S & P's downgrading, there could be further negative impact to the US economy. This impacts us because we export so much of our goods to the US. If the Americans are not spending, we feel it. There's also predictions that the loonie will go higher relative to the US greenback. That of course makes our goods more expensive in the US and abroad.
Conversely there's been some positive speculation about Canada. Investors will look for a safe haven. There's plenty of cash on balance sheets today but given the uncertainty of the market place cash is being hoarded. Eventually corporation will want a return on their capital, and Canada is a safe bet. Based on workforce, commodities, stable financial sector and fiscally responsible government, Canada should benefit. Countries which are AAA rated today will be in demand. S & P rates Germany, Britain, Austria, Denmark, Norway, Netherlands, Australia and Canada AAA. If Europe makes investors nervous, Canada's a solid option.
It's become fashionable in this country to pat ourselves on the back and say, "we're so much smarter than the Americans". Frankly, recent history clearly shows that we have managed our affairs far more effectively than our neighbours to the south. But things can change. In 1993, the Canadian Bond Rating Agency downgraded Canada from AAA to AA Plus. In a short period of time the other international rating agencies followed suite. How did we get our AAA rating back? The government attacked the deficit. If you recall back in the 90's the Liberals, remember them, ran things in Ottawa. Under Finance Minister Paul Martin, programs were slashed, transfer payments reduced, and taxes were increased. This was done all in the name of deficit reduction, and it worked. Here we are in 2011, our deficit is too high and the Harper government will have to do something about it. Harper's backed himself into a corner by campaigning that our taxes are too high, and increasing taxes is not the answer. He had me at hello. So then the only way to reduce our deficit is to cut spending. Don't expect him to use a scalpel to cut programs. This may require a hatchet.
Until next time
Cheers