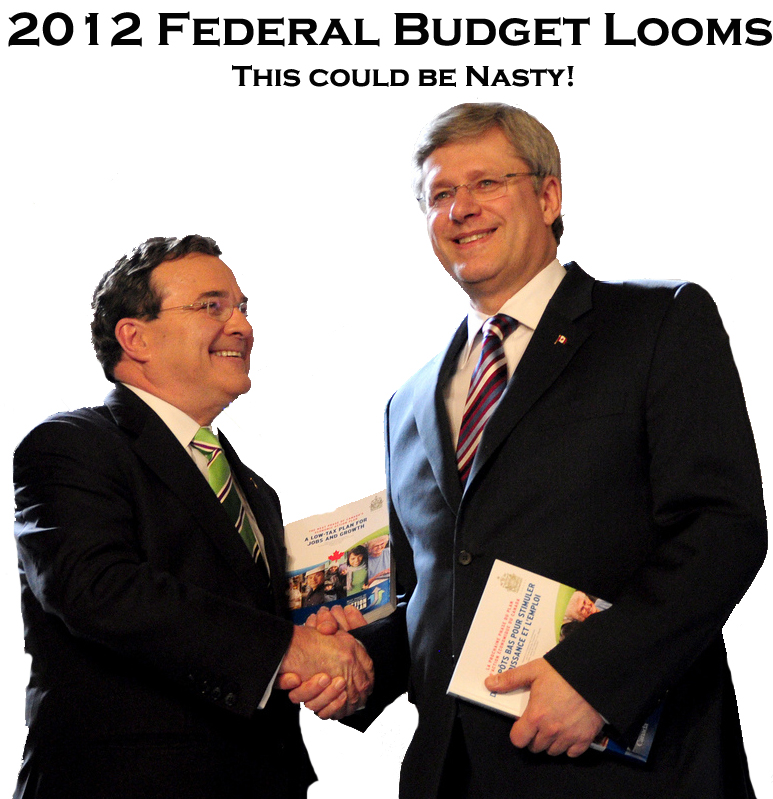 Finally there's a sign of a federal budget, and me thinks if this was a "good news" budget we wouldn't have had to wait until March 29th to hear the glorious details.   Pundits are speculating that there's a difference of opinion between the PM and Minister of Finance.  They're both in agreement that austerity measures are necessary but the difference of opinion appears to be about degrees of pain.  The thought is that the PM wants deep cuts now, and hopefully the voters will have forgotten by time the election comes around.  The Minister of Finance is focusing on today, and he's concerned deep cuts may negatively impact an already shaky economy.   Who's going to win this debate?  My money is on the guy who sits in the big chair.
Normally a federal budget is announced prior to the governments new fiscal year, April 1st.   Is it just me or do you appreciate the irony of that date?  Irony aside, the budget we face will be no joke.  Here's what we know already, the Harper government announced last year that all federal agencies and departments must cut their operating budgets by 5%, yielding a savings of $4 billion.  But that was as of last year.  Now it's being reported that the PM wants far more aggressive cuts which would yield $8 billion in savings.  Guess who's really nervous today?  – The 300,000 federal public servants.  Governments throughout North America are taking a very aggressive position with public servants.   Governments have picked up on the mood of the electorate and are willing to strike because public opinion is on their side.  Many believe that public servants are overpaid, they provide poor service and their pensions are far too generous.  Therefore, no one should be surprised when thousands of government employees are let go over the next couple of years.  This is not an" if", but "when".  Whatever your views are about public servants, the reality is these are real people, with real financial obligations, with real homes, and with real mortgages.  The buzz word on the Hill going forward will be "workforce adjustment" programs.  We all know what that is.  That's a nice way of saying "don't let the door hit your ass on the way out".
Another thorny issue the government is going to deal with in this budget is Old Age Security.  Word has it the government will change the retirement age from 65 to ?.  No one knows what the new magic number will be.  Here's one thing you can be certain of, if you're 50 or under today you can expect to work a lot longer.  The government has no choice but to deal with this issue given that people are living longer, and the financial burden to fund this program is crushing.  Governments have known this for years but no government has had the courage to deal with issue in an honest way.  Until now.
Another reason for the delay is that the government is concerned about the global economy, specifically Europe.  If the crisis worsens in Europe and drags the rest of the world into another recession, the Harper government has to go to plan "B".  If the government has to go to plan "B" it may result in a reprieve for some government departments but the stay of execution will be temporary.  Suffice to say when the budget is finally released the usual suspects will take to the airways to howl in protest; it's how the game is played.  I think this budget will make all of us say "ouch" – there will be one thing that affects each and every one of us.  If there's a silver lining in this it might be that Finance is far too busy with the budget to be focusing on changes to mortgage rules.
Until next time.
Cheers.