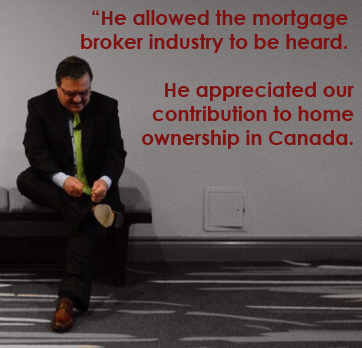 I think most of we're shocked and surprised to hear about the passing of former Finance Minister, Jim Flaherty.  There was speculation he decided to leave the Finance Department for health reasons, he was afflicted by a rare skin disease.  He denied the claims, and simply said that it was time to pursue opportunities in the private sector.  Today, his reason for leaving and stepping aside is moot, and it's sad he didn't have an opportunity to share moments with his family, when they were so close to getting him back.
I think it's safe to say the late Jim Flaherty made many sacrifices.  Being Finance Minister is not a part-time job.  When you're responsible for managing the country's economy and budget, you can probably say goodbye to the nine to five work days.  His efforts and dedication to public service will shape his legacy.  We can quibble about all the changes to mortgage rules under his stewardship, but I think we are all better off today because of his steady hand while steering us through the global financial crisis.  In the grand scheme of things our economy bounced back rather smoothly after 2008; Canada was able to avoid much of the pain other economies endured.  That did not happen by accident. 
 I had the opportunity to meet with Mr. Flaherty on a number of occasions.  I always found him to be engaging and attentive.  He reached out to many business sectors because he wanted to hear firsthand what the needs of the day were. He reached out to our industry and learned the importance of the mortgage broker industry.  He took the time to meet with stakeholders in our industry when it would have been easy for him to say no need, I know better.  He allowed our voice to be heard, and he appreciated the contribution we make to home ownership in Canada.  His approach was a first for our industry, and for that we should all be grateful.  I know I am.
 God speed.