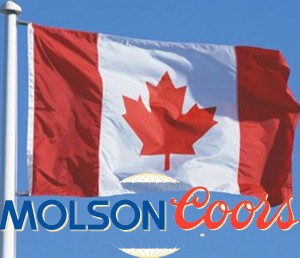 Oh sure, we're winning a few medals in London but the Olympics are fleeting. Before you know it the Olympics will be over and we can all go back to watching our favorite programs on T.V.   Don't get me wrong, we're proud of our athletes but there something bigger happening which has brought our great nation together.  Drinking beer!
Try as I might but I had difficulty finding a good news story about a company doing really well with a connection to Canada,  until I came across this gem in the National Post.  No one, and I do mean no one can convince me that we as Canadians didn't play a part in the success of this company. It's summer time in Canada, and it's what we do.  Just remember the next time you twist off the  cap on a bottle of beer you might want to think of buying some stock.  Like Pavlov's dog.
 Until next time
 Cheers.
Molson Coors profit beats, but new unit disappoints
 Molson Coors Brewing Co reported quarterly profit that blew past Wall Street estimates on Tuesday, helped by an improved performance in its U.S. business and the addition of operations in Europe.
The maker of Molson Canadian, Coors Light and Blue Moon beers reported net income of US$105.1 million, or 57 cents per share, in the second quarter, down from US$222.8 million, or US$1.18 per share, a year earlier.  Excluding one-time items, including financing and acquisition-related charges, earnings were US$1.38 per share. On that basis, analysts, on average, were expecting US$1.19 a share, according to Thomson Reuters I/B/E/S.  The company acquired East European brewer StarBev in June in a US$3.4 billion deal that expands its presence outside of its three core markets of Britain, Canada and the United States.  Net sales were US$999.4 million, higher than US$933.6 million a year earlier and analysts' estimate of US$934.8 million.  The company sold 13.9 million hectoliters of beer, a 6.4% increase from the prior year.
 Earlier Tuesday, MillerCoors – the combined U.S. operations of Molson Coors and SABMiller – posted a 9.1% rise in net income, driven by price increases, a move toward more expensive beers and continued cost savings.
 © Thomson Reuters 2012