It takes an extraordinary amount of resolve, belief, and courage to place a wager on one's own ability. To be willing to forgo the sure thing for uncertainty can be exhilarating and terrifying. Yet there are times when the stars are aligned and the circumstances are just right, to take such a gamble on yourself.  We here, in Toronto, witnessed just that yesterday when the, now former, Toronto Blue Jay General Manager, Alex Anthopoulos, walked away from a five year contract, worth multiple millions of dollars.
The Toronto Blue Jays captured the imagination of sports fans not only in Toronto, but in the whole country. After 22 years of futility and being forced to endure watching other teams compete for championships, Blue Jays fans could actually dream of celebrating a championship and look forward to better days ahead. As all fans know, even the passing fans, the Toronto Blue Jays fell short of the ultimate goal – the World Series. Oh, but what a ride it was. For two and half months millions of viewers tuned into watch the Jays improbable run to the holy land. Rogers Communications, owners of the Toronto Blue Jays and TV network "Rogers Sportsnet", garnered record numbers of viewers that in broadcast terms can be described as staggering. My word, I watched every game and was emotionally invested in the teams every play; this after swearing off the Toronto Blue Jays a decade ago. Back then I decided that if the owners of the team didn't care, well, neither do I.  But I came back, as well as millions of other fans, only to realize it was a mirage.
The mirage refers to the bumbling and out of touch manner in which Rogers Communications have run this team. The search for a new president of the team was laughable. They were publicly humiliated when they first started the process, and they were so inept at it they were close to being charged with tampering. For a scant few months we all believed that those days may be behind us. But alas, that is not the case. The architect of this magnificent turnaround, and a Canadian to boot, was offered a new contract with diminished responsibility. It's like saying, "thanks for making the team relevant again, and for making us millions; as a way of saying thanks were offering you a new contract which will make you a high profile assistant for the new guy". To Alex's credit, he said thanks but no thanks.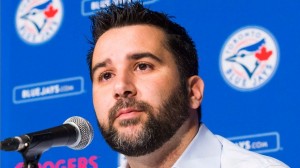 Alex Anthopoulos is betting on himself that he will land another job, with greater say and control over baseball operations. His resume suggests that job offers will be plentiful. It doesn't hurt that on the very same day he announced that he cannot accept the demotion, Sporting News named him executive of the year. This gets more laughable by the minute. Alex Anthopoulos is not the greatest general manager of all time; but what he is, is man of courage and conviction. It takes guts to stand in the batter box and face a pitcher throwing 98 miles an hour, sometimes just under your chin. Anthopoulos proved he is equally as courageous, albeit not in a batter box, but rather in a boardroom.
Until next time,
Cheers.